Richard Nam is a multimedia artist who primarily works within the mediums of ceramics, drawing, painting, and printmaking. The artwork deeply cares about human social life and the urban/ ecological environments; he sometimes enjoys making work about Cows and Cats!
Sinclair Stegosaurus, 2021
Watercolor on paper




Police Pandemic Riot, 2020
Watercolor on paper




Hot Pot Feast, 2021
Watercolor on paper




Gallery Shot 2, 2021
Watercolor on paper




Gallery Shot 1, 2021
Watercolor on paper




Fire Helicopter Linocut, 2020
Watercolor on paper




Capitol Riot Diptych, 2020
Watercolor on paper




Large Fire, 2020
Watercolor on paper




Prison Labor 2 Single File Line, 2020Watercolor on paper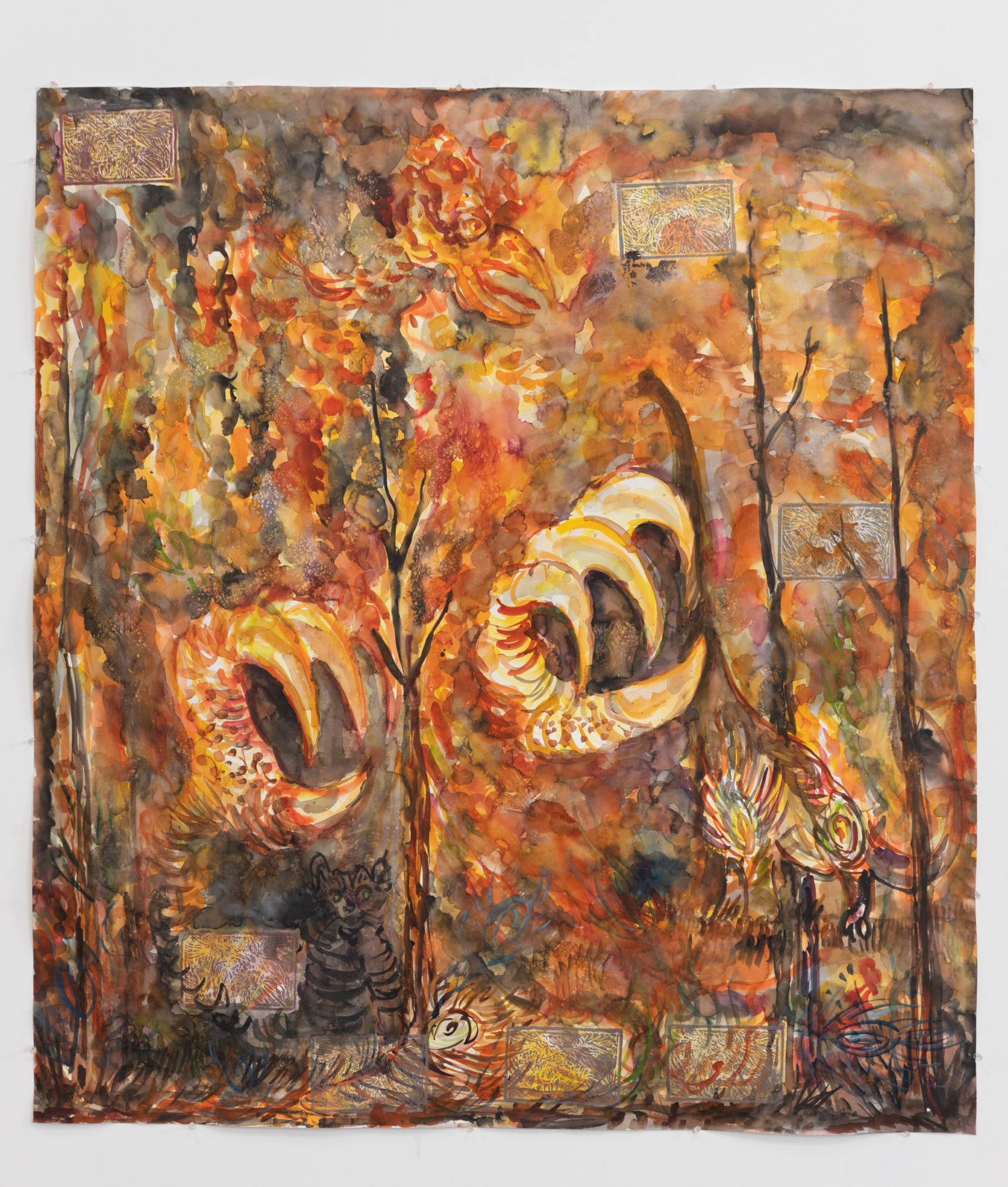 The work in "Conflagration of Man," shares the theme of fire: showcasing flat works of paintings, printmaking, and ceramics structures in various ways. The works are presented in different stages of burning, breathing, and oscillating moments of spectacles. Within the surfaces, the paintings are layered with combinations of water color and block ink, lino-cut prints. Beyond the walls of the flatwork and gallery space, there are ceramic, planter-pot structures of dinosaur forms. Interested in history and landscape painting, along with the concept of the Sublime, the bodies of work intend to denote the current problems with fire as a natural disaster, a use of light source, warm energy, and even highlight political aspects of civil unrest. Lost in apocalyptic suffering, the work sneaks forms of extinct dinosaurs and hidden forms of cats. Not only does the work intend to give a gripping imagery for the viewers, it also wishes to enrage and instill other tastes of (un)comfort.
The group of paintings report 'Global Pandemic' and political information like any other news stations, meaning to spotlight manual labors of fire fighters and even enlarge the discussions to the complexity of Inmates Prison labor. Further, the representations of large, cold-blooded lizards are intended to symbolize the Covid 19 Pandemic, similar to the hypothetical (Big Bang) apocalyptic demise, but in a playful manner. The domestic felines, ghostly invisible within most of the work, are bizarrely intended to play 'hide and seek' with the viewers.